The List Of Gucci Stores In South Africa 2023: Unquestionably, one of the names most frequently mentioned in connection with the fashion sector is Gucci.
There are a lot of different factors that contribute to the brilliance and prestige of the brand.
Gucci was established in 1921 in the Italian city of Florence. Guccio Gucci, an Italian entrepreneur and fashion designer, was the founder of the Gucci brand and firm.
Despite the fact that the company's founder passed away in 1953, the legacy of the intelligent business structure he created continues on and is deeply admired all over the world.
As of the year 2019, Gucci is responsible for the employment of over 17,150 individuals and operates more than 400 outlets throughout the world.
At the moment, Mario Bizzarri serves as the Chief Executive Officer of the organization. Kering is a luxury goods firm that is headquartered in Paris, France. Gucci is a sub-brand of Kering.
Each of Gucci's boutiques across the world has a unique selection of the brand's signature high-fashion goods. You may acquire materials such as purses, garments, footwear, perfumes, home décor, and so on from Gucci outlets.  The corporation is innovative, progressive, and influential.
Gucci makes a concerted effort to advance both the artistic quality and the sophisticated manner with which fashion is presented. With its outstanding and high-quality goods, the firm not only exemplifies the highest level of Italian handicraft but also demonstrates to the rest of the world how aesthetically pleasing the fashion industry can be.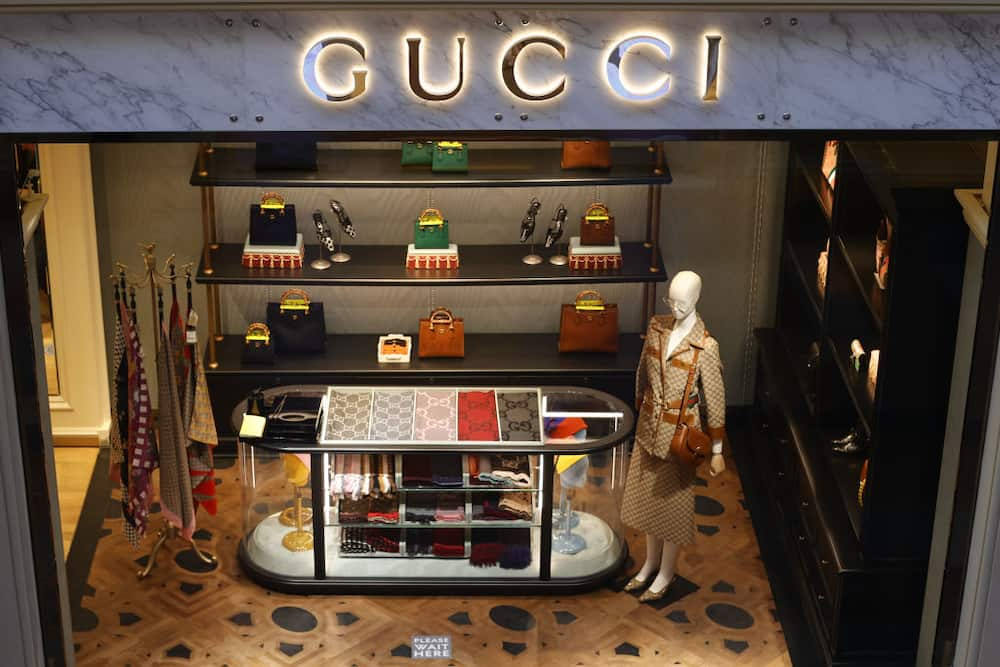 In addition, we'll look at the Gucci stores in South Africa in this post.
This post will be of great use to you if you are located in South Africa and are looking for a store or other location from which you can purchase Gucci items. Continue reading further below.
Gucci Stores In South Africa
There are only three Gucci stores in the African continent. Moreover, two of these three stores are located in South Africa. Check the location and contact of Gucci stores in South Africa below;
Shop U15 Diamond Walk Sandton City, Johannesburg, Gauteng, 2196, South Africa
Telephone:+27.11.326.7928/86
Shop 7223, Victoria Wharf Shopping Centre V&A Waterfront, Cape Town, 8002, South Africa
Telephone:+27.21.418.2793
Products And Services Of Gucci In South Africa
Gucci stores offer a variety of fashion accessories in South Africa. The company have materials for men, women, and children
The Gucci stores in South Africa offer different men's fashion materials. First, for men, you can get different bags such as briefcases, duffle bags, messenger bags, belt bags, and backpacks in varieties of colors and shapes. Also, there are different shoes for men.
Mens' footwear that are available in South African Gucci stores includes horse-bit loafers, sneakers, Princetown slippers, ankle boots, and slides. Ready-to-wear products for men include bowling shirts, sweatshirts, hoodies, tailored suits, wool coats, and denim. Other accessories available for men in the South African Gucci stores are wallets, sunglasses, belts, and watches.
The Gucci stores in South Africa offer multitudinous women's fashion materials. For women, you can get different handbags such as totes, shoulder bags, and belt bags in different colors and designs. There are also shoes for women.
Womens' footwear materials in South Africa Gucci stores include sneakers, double g pump and boot, slides, and horse-bit loafers. Some of the Ready-to-wear products are swimwear, lingerie, tops, skirts, and cardigans. Other fashion accessories available for women are eye wears, belts, wallets, watches, and chains.
In the children section, there are products for male and female children including babies. Some of the products available for children are clothing, shoes, bags, belts, and soft accessories. Baby products include bibs, toddler wears, sleepsuits, and knitwear.
Apart from the fashion products listed above, you can get other accessories from the Gucci stores in South Africa. These accessories include beauty, decoration and lifestyle, and gift products. Some of the beauty products you can get from the Gucci store are mascara, fragrances, lip balm, eye gloss, lipsticks, and powders.  Some of the decor and lifestyle products you can get from Gucci stores in South Africa are furniture, table wear, textiles, wallpaper, and stationery.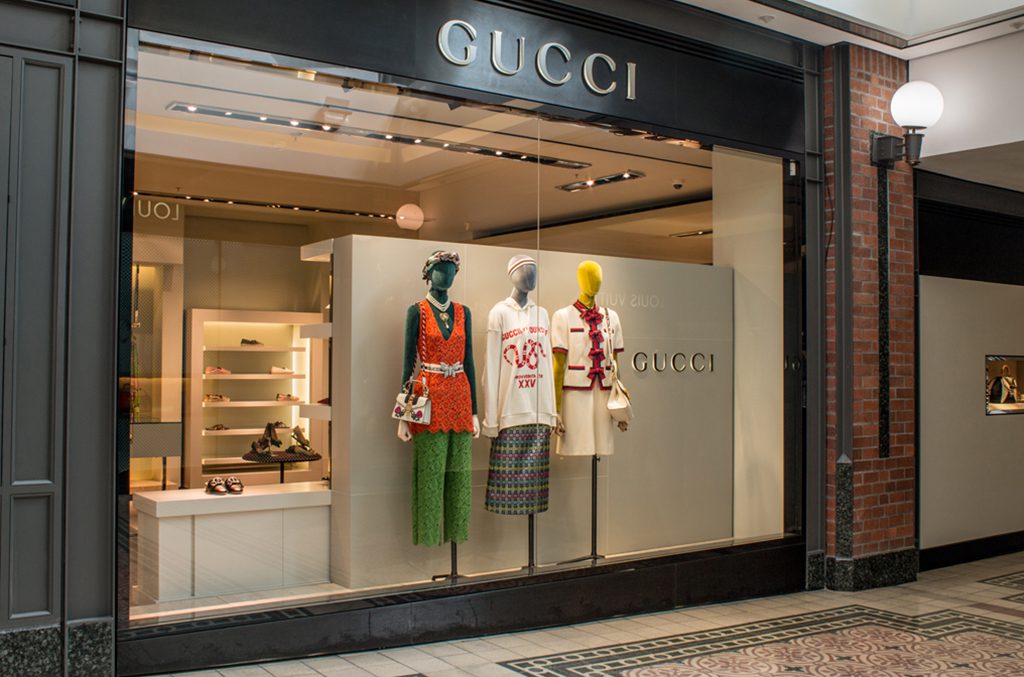 Why Should You Choose Gucci Products? 
Albeit there are many names in the global fashion industry, besides, one of the most popular and reputable ones is Gucci. A major question that goes through a lot of people's minds is that- 'does it worth it?' 'Products from prestigious fashion brands are quite more expensive than the normal ones but do they worth the value of their price?' The answer is yes; products from top brands are usually worth it.
Speaking about fashion materials, Gucci products are one of the best you could ever get. In this section, we will provide you with some tangible reasons why you should go for Gucci fashion products. Read further to know more
First, one major reason that should give you a guarantee of Gucci's eminence is its rich heritage. The company was founded by Guccio Gucci back in 1921 and ever since then, the company's heritage hasn't crumbled; what an impressive standard!
Gucci's profound and immense experience level is one of the reasons why it is afloat in the fashion industry. The company employs only dedicated, experienced, and hardworking individuals who are ready to work in unison to achieve various goals.
The Used Product Still Possess Great Value
Another reason why you should always consider Gucci rather than other ordinary brands is because of the company's product resale value. Purchasing your fashion products from Gucci gives you the chance to utilize top-notch materials and even, in case of resale, stand a chance of gaining a high amount of money.
The versatility of Gucci's products is another reason you should patronize the company more. Gucci products are usually made in different ways. For instance, if you are getting a Gucci bag or have seen one with your friend or family member, you can get different varieties of that particular bag in the Gucci store.
The company's products are made to vary based on color, shapes, and sizes just to ensure the satisfaction of customers.
Conclusion: Gucci Stores In South Africa
Amazing and also among the very best and most precious fashion things available everywhere in the world, Gucci products are always in high demand. There are two different Gucci boutiques located in South Africa.
The first one can be found in Johannesburg, and the second one can be found in Cape Town. If you are a resident of South Africa, you have convenient access to one of the most prestigious fashion brand stores in the world.
Both of the locations, one in Cape Town and one in Johannesburg, are operating well and have a decent selection of high-quality products in stock.
Both of the Gucci stores that are located in South Africa have had their addresses and contact information included in the article that was just read.
In addition to the address and phone number, the article will also provide you with other crucial information regarding Gucci stores and items available in South Africa.
List Of Gucci Stores In South Africa 2023 – Newshub360.net
[viralBoostButton button-text="
SHARE TO 3 GROUPS
" whatsapp-button-text="Share on WhatsApp" message="Put to sent to whatsapp her" pop-message='
Please share to 3 GROUPS on Facebook or WhatsApp
' pop-title='🙏🏼 SHARING IS CARING 🙏🏼']
CHECK THIS OUT:
♦  Top 10 Highest Paid Footballers in South Africa 2023
♦  Top 10 Highest Paid Footballers at Mamelodi Sundowns 2023
♦  Top 10 Highest-Paid Footballers at Kaizer Chiefs [ Billiat is 2nd ]
♦   Top 10 Highest Paid Footballers at Orlando Pirates 2023
♦  Top 10 South African Footballers Who Went Broke After Retirement
♦  Top 10 Richest Football Club Owners in South Africa [ Motsepe is 2nd]
♦  Top 10 Most Expensive High Schools in South Africa and Their Fees
♦  Top 10 Richest Football Clubs in South Africa [ Kaizer Chiefs is 2nd]
Credit :www.Newshub360.net